Dr John Gibbons MBBS QLD FRACP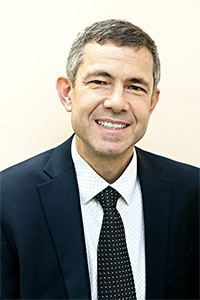 Dr John Gibbons is a highly experienced gastroenterologist with over twenty years' experience in his specialist field. Over this time, his greatest professional achievement has been the establishment of a successful group practice, Gastro Services and Facilities, in combination with a state-of-the-art Day Hospital, Eastern Endoscopy Centre.
Dr Gibbons has maintained a strong focus and interest in the assessment and performance of quality in endoscopic and colonoscopic procedures. His main motivation for this commitment to quality improvement, is obtaining the best possible outcomes for his patients. This is achieved through ongoing research, evaluation and the employment of the latest advanced techniques, technologies and equipment.
Graduating in Medicine from The University of Queensland in 1988, Dr Gibbons went on to complete his advanced physician training at Greenslopes Private Hospital and the Royal Brisbane Hospital. He later undertook advanced therapeutic and Endoscopic Retrograde Cholangio-Pancreatogram (ERCP) training at Sydney's Westmead Hospital. He was awarded his Fellowship of the Australian College of Physicians and returned to Brisbane to work as a senior VMO at the Royal Brisbane and Womens Hospital for more than 10 years while setting up his private practice.
Dr Gibbons currently works at the Mater Private Hospital, South Brisbane (procedures all day Friday), the Sunnybank Private Hospital (Tuesday mornings) and the Eastern Endoscopy Centre (Monday and Thursday mornings). He has Conjoint Committee recognition for endoscopic, colonoscopic procedures as well as obtaining registration for the teaching and performance of capsule endoscopy. He has completed recertification for adult colonoscopy in 2023.
Dr Gibbons' special interests include therapeutic endoscopy and colonoscopy, endomucosal resection and inflammatory bowel disease. With these more refined skills, he now manages specific pre-malignant conditions and early malignancies (cancers) without the need for surgery.
His consultative gastroenterology practice focuses on the management of luminal diseases such as inflammatory bowel disease (Crohn's disease and Ulcerative Colitis) and pancreatic and liver diseases. Dr Gibbons consults at Eastern Endoscopy Centre, Birkdale; Mediconnect Consulting Rooms, McCullough Centre, Sunnybank; and Occphyz Consulting Rooms, Cannon Hill.
Dr Gibbons has taken an active leadership role in the gastroenterology community having been Director of Endoscopic Services at the RBWH and an Executive member of the Gastroenterology Society of Queensland (GESQ). He currently hold the titles of CEO and Director of Medical Services at the Eastern Endoscopy Centre.