Gastro Services & Facilities (GSF)
Our Story
Gastro Services & Facilities was established on December 1st 2006 by Dr John Gibbons and Dr Kate Cayzer who were later joined by Dr Jillian Rosenstengel and Dr Nick Tutticci.
Together this highly experienced team, all of whom are medical graduates of the University of Queensland and fellows of the Royal Australian College of Physicians, provide an extensive range of expert gastroenterological services, including management of diseases and tumours of the stomach and bowel, liver disease, pancreatic and biliary diseases, and inflammatory bowel disease.
Additionally, all of our specialists have contributed to public hospital consultant practice through VMO positions at Royal Brisbane and Women's Hospital, Princess Alexandra Hospital, QEII Hospital and Prince Charles Hospital.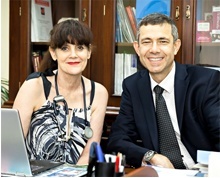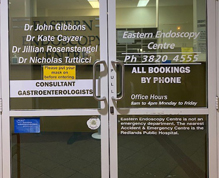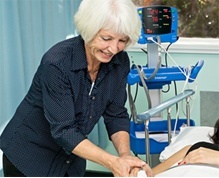 Our Vision
Early detection and treatment of gastrointestinal diseases to minimize suffering and improve quality of life.
Our Mission
To provide an affordable high quality gastroenterology service to Brisbane's southeast.
Our Services
We provide both a consultative and open access gastroenterological service.
We perform consults at a number of locations: Birkdale, Sunnybank and Cannon Hill.
We visit and perform procedures at Eastern Endoscopy Centre, Mater Private South Brisbane and Sunnybank Private Hospitals.
Making a booking with Gastro Services & Facilities is simple and easy, as all bookings are made through our Central Booking Office, between the hours of 8am and 4pm Monday to Friday. Simply have your pen & paper ready, Medicare card details, pensioner or healthcare card and private health fund details. If you have insulin dependent diabetes, have a significant medical disease, a BMI>40 or are on a blood thinning medication other than Aspirin, please advise the staff when making your booking.
Our Practice Staff
At Gastro Services & Facilities, we have a great team which includes Accounts Staff, Bookings Staff, Clinical Typists, Medical Records Clerks who are all committed to providing the highest level of administrative services to you.
By choosing Gastro Services & Facilities, you're putting your trust in the experts.